Hi, My Name Is Honey Badger Tyrann
Tyrann Mathieu is out of rehab and living alone, trying to convince himself (and NFL GMs) that he's more than his old habits and nicknames.
Tyrann Mathieu has tried a dozen forms of therapy since drugs derailed his life, but on this morning he decides the best antidote to temptation is a long walk alone. He arrives at Pompano Beach in southeast Florida just after sunrise and parks his car in an empty lot. He pulls a hooded sweatshirt over his famous shock of yellow hair and tightens the waistband on his mesh shorts. Then he kicks his shoes into the sand and starts walking barefoot toward the surf.
NFL DRAFT ISSUE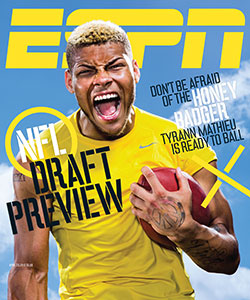 The idea of a beach walk started as a recommendation from his athletic trainer — another drill meant to prepare him for the 2013 NFL draft, another psychological exercise he initially dismissed as "pointless." But as draft day nears and his anxiety mounts, Mathieu relies on the walks as part of his routine, an escape between timed 40-yard dashes and interviews with NFL executives who want to rehash his mistakes. He has never been particularly good at dealing with stress, its effects already reducing him from a 2011 Heisman Trophy finalist to a recovering addict with an arrest record. The walks are part of his rehab, what he calls his Phase 2, and he says they have helped him stay sober for three months and counting.
"Walking alone, just thinking — that's treatment, man," he says. "That's the most comforting rehab I've known."
It is more comforting than the family counseling sessions at LSU, the group therapy in a converted fraternity house or the inpatient rehab in Texas where counselors checked his toiletries each week to make sure they were alcohol-free. More comforting than the boxing lessons he started, hoping to release anger. More comforting than the therapeutic rap songs he has begun writing, trying to make sense of his complicated life. More comforting than talking on the phone every night with his sponsor, a 40-year-old recovering addict who cautions Mathieu to remember: "This is your life. An addict is never truly cured."
It's more comforting, on the best days, than lying on a couch and lighting a blunt — the habit that caused so many problems in the first place.
Mathieu's path on Pompano Beach is always the same: a mile down the sand to a black-and-white lighthouse and a mile back, with his head down and his breathing steady. He listens to the cry of the gulls. He smells the salt and sand. He walks on the edge of the water and lets the waves crash against the partial tattoos of lightning bolts and Bible verses on his legs, which he started at LSU but left unfinished, like so much else.
The goal on his walks is to let stress slip away and to find clarity for what his sponsor calls the big questions. Does he like the person he is becoming? Is he continuing to make his recovery a priority? Can he manage his stress and stay sober even as the NFL draft nears and the scrutiny increases, with his career and his reputation again in the balance?
Sometimes the answers come to him easily on the beach.
Other times he reaches the lighthouse and keeps walking.